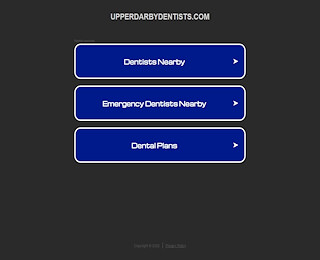 Don't settle for anything less than the very best dentist in West Philadelphia for your family's dental care. If you're new to W Philly, need immediate dental treatment, or are thinking about switching dentists, we're here for you with affordable services designed to meet the needs of pediatric patients, teenagers, adults, and seniors.
Our patients enjoy quality dental care with a strong emphasis on gentle treatment, so you can rest easy when it's time to see your dentist. Consider United Dental Care of Upper Darby for the following:
Checkups, cleanings, fluoride treatment, dental sealants
Tooth-colored fillings, veneers & crowns
Cosmetic options - Snap On Smile, gum sculpting, professional whitening
New technology equipment and treatments
Sleep Apnea treatment
TMD treatment
Dental Implants
And so much more.
Do I Need a Second Opinion From A Dentist?
It's always a good idea to double check before investing in costly dental services. United Dental Care of Upper Darby proudly offers free consultation and second opinion appointments as our way of providing value to prospective patients.
Let our team confirm your diagnosis for root canal treatment, help you understand available options for restorative treatment, or answer any questions you have about future dental work.
Our goal is to make seeing your dentist in West Philadelphia a smart investment that results in a beautiful, lasting smile. Schedule your consultation with us to see why many of your friends and neighbors see us for full-service dentistry.
Is Fear Of The Dentist Normal?
Don't be surprised to learn that at least 90% of dental patients experience some form of anxiety or fear when visiting the dentist. While fear of sitting in the dentist chair varies in intensity from patient to patient, it typically stems from a past traumatic experience or a previous painful visit.
New technology and techniques in dentistry virtually eliminate all pain and discomfort - expect more-comfortable visits when you see United Dental Care of Upper Darby's dentist in West Philadelphia. Modern anesthesia combined with sedation allows for comfortable, relaxed appointments - even during root canal treatment and extensive restorative dentistry.
Quality, Affordable Dental Care At UDC
Schedule your next appointment with us to experience the full benefits of seeing a family dentist who cares as much about your smile as you. We'll help you keep your teeth and gums healthy and beautiful with routine hygiene visits that prevent tooth decay and help you make a great first impression every time you smile.
Bring your whole family in to United Dental Care of Upper Darby for a practice tour and initial consultation with us and see why we've earned our dental reputation in West Philadelphia.
Switch Dentists For Better Treatment
Our staff will make sure you have access to 24-hour emergency dental treatment when you need to see our dentist. It's easy to make the switch to United Dental Care of Upper Darby. As a new patient, you'll save on your initial checkup & cleaning as well. Ask us about our in-office dental savings plan for low-cost, full-service dentistry that is easy on your budget.
United Dental Care of Upper Darby
4844620171
6780 Market Street, Upper Darby, PA 19082
View Larger Map