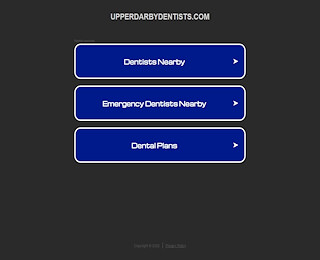 Did you know there's an Upper Darby Dentist in your community offering a full range of dentistry services under one roof? United Dental Care of Upper Darby provides convenient access to preventive, restorative, cosmetic, and restorative dentistry with fewer referrals to an outside dentist. Whether you're looking for a dentist offering 24-hour emergency care, routine checkups & cleanings, or new technology dental care, we are the right choice for your family. For quality dental care with a gentle hand, schedule an appointment with our team from United Dental Care.
What Kind of Dentist is Right For My Family?
While many dentists call their practice 'family' practice dental clinics, you'll notice a significant difference in the number of services offered from one family dentist to the next. When calling around searching for an Upper Darby Dentist for your group, be sure to ask questions to determine whether each prospective dentist commits to meeting your family's needs. A well-rounded family dentist, such as United Dental Care, offers the following services:
Pediatric Dentistry to treat children of all ages
Orthodontics for tweens, teens, and adults
Restorative and cosmetic dentistry
Preventive checkups, cleanings, fluoride, and sealants
New technology dentistry
Specialized dental care
Do All Dentists Welcome Walk-In Patients?
Most family dentists make time in their daily schedule to accommodate emergency walk-in visits; however, our staff at United Dental Care responds to emergency dental issues 24-hours a day to ensure our patients get the care that is necessary when they need to see a dentist immediately. Call our hotline number for any dental emergency, including:
Sports injuries
Soft tissue injuries
A toothache
Severe gum bleeding
A lost or loose dental restoration
A knocked out, loose, or broken tooth
Any dental situation involving pain
If you're not sure whether your circumstance is an emergency, we advise you to err on the side of caution and call United Dental Care to see your Upper Darby Dentist right away.
Anxiety-Free Dental Visits
See your Upper Darby Dentist from United Dental Care for relaxed, comfortable appointments when it's time for your next checkup and cleaning. We proudly practice pain-free dentistry, with sedation options available to meet your needs. Visit our website's 'Specials' section to find New Patient savings, such as our discounted price on your initial exam, x-rays, and cleaning, and our free consultation or second opinion meeting.
Save With Our UDC Savings Plan
We understand that not all of our patients have dental insurance, which is why we've created an exclusive in-house discount dental plan to save you money on every visit. You'll learn more about our dental policy by exploring our website's resources or by calling the United Dental Care front desk staff with your questions. For one low monthly rate, you'll experience significant savings on routine, preventive dentistry as well as additional treatment when you need to see a dentist. We welcome your new patient appointment and look forward to the opportunity to get to know you and your family.
Related Posts
Before you choose a dentist in 19082, consider the services they offer and whether those services will meet your family's needs. United Dental Care of Upper Darby provides a broad range of dentistry services for every member of your family, from children and teens to adults and seniors. There's no reason to look elsewhere for preventive, cosmetic, restorative, and specialized dental care- we do it all under one roof. Our full-service dental clinic reduces the frequency of out-of-office referrals so that it's more convenient and enjoyable to see your dentist.
Do I Need a Second Opinion For Dentistry?
When it comes to specialized dental procedures and treatments, such as root canal treatment, dental implants, veneers, or orthodontics, it's smart to request another dentist's opinion. At United Dental Care of Upper Darby, we offer free consultation appointments and second opinions as our way of helping patients make the right decisions regarding their dental care. If you've received word from your dentist in 19082 that you need costly dentistry, feel free to schedule a complimentary consultation with our staff to confirm your dentist's diagnosis. We use the newest technology and equipment to assess your needs correctly.
Is Dentistry Expensive Without Insurance?
It surprises many people to learn they can save money on dental services by choosing a dentist in 19082 who provides an in-office dental savings plan. If your dentist does not offer such a program, you're paying too much for checkups, cleanings, x-rays, preventive dentistry, and additional services from your dentist. Patients at United Dental Care save significantly on dental treatments by opting into our low-cost dental plan that covers a broad range of services, from preventive to restorative. You can find out more about our cost-saving program when you browse our website's 'Specials' section.
We Value New Patients
As a patient new to United Dental Care, you'll experience numerous benefits and perks when you schedule your first appointment with us. Your initial cleaning with x-rays and exam are just $85 when you mention our New Patient Special Offer when you book your visit. We want your experience with us a relaxed and comfortable time in the dentist chair, which is why you'll find sedation options and the latest anesthesia used in our office.
We Treat You Like Family
Whether you need to see your dentist for a same-day appointment, have anxiety about your visit to our office, or require 24-hour emergency dental care, you'll find our staff warmly welcoming and accommodating to your needs. We know you live a busy lifestyle- we'll always do everything possible to be on time for your appointments. If you arrive early for a checkup, cleaning, or any other service, enjoy our state-of-the-art waiting room.
Take a free tour of our practice to learn more about our facility and get to know our friendly staff. Schedule your visit for a time that's convenient for you and see why we are considered the best dentist in 19082.
As part of our family at United Dental Care, you'll experience exceptional service when it's time to see your dentist. New patients at Upper Darby Dentistry have access to convenient online forms, accessible appointment times, and affordable, quality dental care without the typically long wait time. If you're currently seeking a new dentist in the Upper Darby community, give us a call or schedule a practice tour to see why your friends and neighbors trust us for all of the following services:
Digital imaging & x-rays
State-of-the-art dental technology & techniques
Pain-free visits
A full range of preventive services
Aesthetic restorations
The newest cosmetic procedures
Specialized care
Fewer referrals
Gentle treatment
How Do I Know if I Should Switch Dentists?
You'll know when you've found the right Upper Darby dentistry team- the right dentist office feels like home. If you have any questions whatsoever as to whether you're seeing the right dentist, our staff at United Dental Care encourages you to take a few moments to explore our online resources and learn more about what we offer our patients. Set up a new patient tour of our beautiful facility to meet our staff and take a closer look at the benefits you'll experience as a patient at United Dental Care. If something feels off when you visit your dentist, the chances are good that they're not the right pick for your family.
How Often Should I See My Dentist?
Dental office visits vary from twice annually to multiple annual visits, depending on your personal needs. Book a checkup and cleaning with our team from United Dental Care for a customized treatment plan that includes preventive checkups for a more beautiful smile. If it's been a while since you've seen a dentist, you should know that it's never too late to explore options for improving your smile. We offer a full line of Upper Darby dentistry services- everything from routine office visits to full mouth restorations utilizing a broad range of cosmetic treatments.
The Best Reason to See Your Dentist
Managing a healthy smile costs less than paying for costly restorative treatments down the road. Ask our staff about the United Dental Care In-House Dental Savings Plan designed to make Upper Darby dentistry more affordable than ever. Your low-cost payments cover preventive dentistry with additional savings on many of our other services as well. You can learn more about the benefits of opting into our plan when you browse our website's 'Specials' section or call to meet with us- be sure to bring your list of questions to your initial consultation.
Schedule Your Next Checkup
Call us today to set up your New Patient Checkup at a special discount price- just $85 when you call us now. Your checkup includes a professional cleaning, x-rays, and a thorough dental exam. We also offer a free consultation and second opinion as an added value; we think our complimentary second opinion offer provides exceptional peace of mind to patients searching for a new dental home for their family.
United Dental Care of Upper Darby
4844620171
6780 Market Street, Upper Darby, PA 19082
View Larger Map