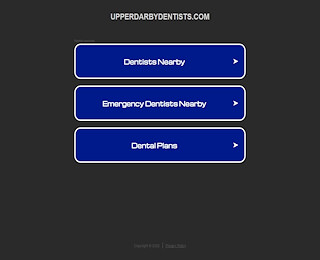 Did you know there's an Upper Darby Dentist in your community offering a full range of dentistry services under one roof? United Dental Care of Upper Darby provides convenient access to preventive, restorative, cosmetic, and restorative dentistry with fewer referrals to an outside dentist. Whether you're looking for a dentist offering 24-hour emergency care, routine checkups and cleanings, or new technology dental care, we are the right choice for your family. For quality dental care with a gentle hand, schedule an appointment with our team from United Dental Care of Upper Darby.
What Kind Of Dentist is Right For My Family?
While many dentists call their practice "family" dental clinics, you'll notice a significant difference in the number of services offered from one family dentist to the next. When calling around searching for an Upper Darby Dentist for your family, be sure to ask questions to determine whether each prospective dentist commits to meeting your family's needs. A well-rounded family dentist, such as at United Dental Care of Upper Darby, will offer the following services:
Children's Dentistry for kids of all ages
Orthodontics for tweens, teens, and adults
Restorative and cosmetic dentistry
Preventive checkups, cleanings, fluoride, and sealants
New technology dentistry
Specialized dental care
Do All Dentists Welcome Walk-In Patients?
Most family dentists make time in their daily schedule to accommodate emergency walk-in visits, however, our staff at United Dental Care of Upper Darby responds to emergency dental issues 24-hours a day to ensure you get the care that is necessary when you need to see a dentist immediately. Call our hotline number for any dental emergency, including:
Sports injuries
Soft tissue injuries
A toothache
Severe gum bleeding
A lost or loose dental restoration
A knocked out, loose, or broken tooth
Any dental situation that causes you pain.
If you're not sure whether your circumstance is an emergency, we advise you to err on the side of caution and call United Dental Care of Upper Darby to see your Upper Darby Dentist right away.
Anxiety-Free Dental Visits
See your Upper Darby Dentist from United Dental Care of Upper Darby for relaxed, comfortable appointments when it's time for your next checkup and cleaning. We proudly practice dentistry with sedation options available to meet your needs. Visit our website's 'Specials' section to find New Patient savings, such as our discounted price on your initial exam, x-rays, and cleaning, and our free consultation or second opinion meeting.
Save With Our UDC Savings Plan
We understand that not all of our patients have dental insurance, which is why we've created an exclusive in-house discount dental plan to save you money on every visit. You'll learn more about our dental policy by exploring our website's resources or by calling the United Dental Care of Upper Darby's front desk staff with your questions. For one low monthly rate, you'll experience significant savings on routine, preventive dentistry as well as additional treatment when you need to see a dentist. We welcome you to your new patient appointment and look forward to the opportunity to get to know you and your family.
United Dental Care of Upper Darby
4844620171
6780 Market Street, Upper Darby, PA 19082
View Larger Map