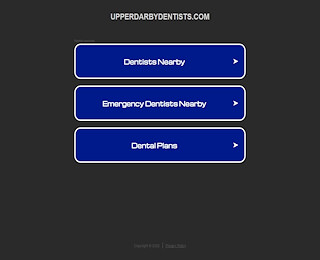 As part of our family at United Dental Care Of Upper Darby, you'll experience exceptional service when it's time to see your dentist. New patients looking for Upper Darby dentistry have access to convenient online forms, accessible appointment times, and affordable, quality dental care without the typically long wait time.
If you're currently seeking a new dentist for Upper Darby dentistry, give us a call or schedule a practice tour to see why your friends and neighbors trust us for all of the following services:
Digital imaging & x-rays
State-of-the-art dental technology & techniques
Pain-free visits
A full range of preventive services
Aesthetic restorations
The newest cosmetic procedures
Specialized care
Fewer referrals
Caring treatment.
How Do I Know if I Should Switch Dentists?
You'll know when you've found the right Upper Darby dentistry team - the right dentist office feels like home. If you have any questions whatsoever as to whether you're seeing the right dentist, our staff at United Dental Care Of Upper Darby encourages you to take a few moments to explore our online resources and learn more about what we offer our patients.
Set up a new patient tour of our beautiful facility to meet our staff and take a closer look at the benefits you'll experience as a patient at United Dental Care Of Upper Darby. If something feels off when you visit your dentist, the chances are good that they're not the right pick for your family.
How Often Should I See My Dentist?
Dental office visits vary from twice annually to multiple annual visits, depending on your personal needs. Book a checkup and cleaning with our team from United Dental Care Of Upper Darby for a customized treatment plan that includes preventive checkups for a more beautiful smile.
If it's been a while since you've seen a dentist, you should know that it's never too late to explore options for improving your smile. We offer a full line of Upper Darby dentistry services - from routine office visits to full-mouth restorations using a broad range of cosmetic treatments.
The Best Reason to See Your Dentist
Managing a healthy smile costs less than paying for costly restorative treatments down the road. Ask our staff about the United Dental Care Of Upper Darby In-House Dental Savings Plan designed to make Upper Darby dentistry more affordable than ever.
Your low-cost payments cover preventive dentistry with additional savings on many of our other services as well. You can learn more about the benefits of opting into our plan when you browse our website's 'Specials' section or call to meet with us - be sure to bring your list of questions to your initial consultation.
Schedule Your Next Checkup
Call us today to set up your New Patient Checkup at a special discount price- just $85 when you call us now. Your checkup includes a professional cleaning, x-rays, and a thorough dental exam.
We also offer a free consultation and second opinion as an added value; we think our complimentary second opinion offer provides exceptional peace of mind to patients searching for a new dental home for their family.
United Dental Care of Upper Darby
4844620171
6780 Market Street, Upper Darby, PA 19082
View Larger Map